Horses and Foals For Sale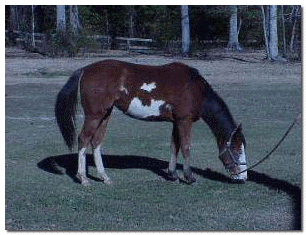 Better known as DeeDee. She is a 1997 Mare. She is an APHA Bay/Overo. Her sire is Tar Boy, her dam is Miss Quincy Robin. She has two blue eyes and the sweetest attitude to be around. She will make a great child's horse as she is about 13.2hh. She has not been broken as yet but with her imprinting at birth and lots of handling it should go really easy. Dee is up to date in shots, farrier, and worming. She is offered at $1500 US.


---

Here we have a flyer, of some of the horses we have for sale, which will open in a new window.
Flyer Of Horses



For more information you may contact me through the site guestbook.
Email me for phone number to speak directly with me, or leave your phone number for me to contact you.


---

NEED MORE INFORMATION
More detailed information, photos, and copy of registry papers, can be sent on any mare you are interested in by dropping us an e-mail. All horses sold from our farm are guaranteed to be vet checked in good health and sound at the time of sale. If bought after breeding season some will be in foal and does not change the price at time of sale.
(Its a good deal, two for the price of one.)


Painted Star Farm